Deposit and Cancellation Policy
Longevity Centers of America (LCA) is a mobile thermography business that travels, with apparatus, to provide screenings in urban and remote locations. This is a 'by appointment' business; therefore, last-minute cancellation(s) or rebooking(s) can significantly impact the business and that of our Technicians.
1. Appointment Deposit & Reservation:
A $100.00* deposit via credit card is required to reserve an appointment time upon scheduling through the website and the scheduling line at 888-580-0040. The deposit will be credited toward the procedure fees on the day of service. HSA credit cards are not accepted for the deposit (however, the card may be used on the day of service with the technician).
Our appointments are confirmed 72 hours in advance via email, as we know how easy it is to forget an appointment you booked months prior. We require a deposit since the services are reserved for you personally.
2. Cancellation Policy:
A 48-hour cancellation notice is required to cancel an appointment. If you call within 48 to 24 hours and DO NOT transfer (rebook), you will lose your deposit, and any other future appointments will require another $100 deposit to secure your appointment. The deposit amount will be refunded if the appointment is canceled before 48 hours. There will be a $6.00 transaction fee for canceled appts without rebooking.
Please understand that when you forget, cancel, or rebook your appointment without giving enough notice, we miss the opportunity to fill that appointment time. Our Technicians are left with open slots at the clinic.
3. Transfer (rebook) Appointments:
If you call within 48 to 24 hours before your appointment, you may transfer your appointment to another location, date, and time, and the deposit transfers with the new appointment. This can be done through the scheduling line at 888.580.0040. Note: Multiple transfers or reschedules (3 or more) will result in a loss of deposit.
3. Late Policy:
To avoid unfair delays to clients, if you are more than 15 minutes late to your appointment, it may be necessary to reschedule (rebook).
We understand that unforeseen circumstances may arise that could force you to postpone/reschedule your procedure. Please understand that such changes affect your technician and other clients.
4. No-Show Policy:
If you schedule an appointment and conduct a "no show," your deposit reverts to LCA, and the client is expected to pay another deposit for any rescheduling.
*NOTE: Deposit and cancellation policy updated on 03/20/2023
Frequently Asked Questions (FAQ)
Does insurance cover thermography?
Stephen Picardi
2023-02-28T23:04:59-05:00
We try and make this service affordable for everyone. Prevention should be!
Insurance rarely (if ever) covers thermal imaging. However, you may use your Flex Spend dollars or Health Savings Account (HSA) money. If you still wish to check with your insurance company, call and inquire about thermography or thermal imaging insurance coverage for your specific condition. If you desire a Health Insurance Claim Form (HICFA), you will be given one with the codes already on the form. Fill out your personal information on the form and send it to your insurance company. There are no guarantees you will, in fact, be covered. You will still have to pay for the scan upfront. If your insurance covers the scan, a reimbursement check for the scan will be sent to you, or the balance will come off your deductible.
Please note: When referred by a Doctor, one copy of the scan results will go to the doctor that referred you, and one copy will come directly to you. You will be sent 2 copies of your report if you have no physician referral.
Some clients may wish to remain anonymous from the insurance company for personal reasons – or if they are changing insurance companies. We respect the confidentiality of each client.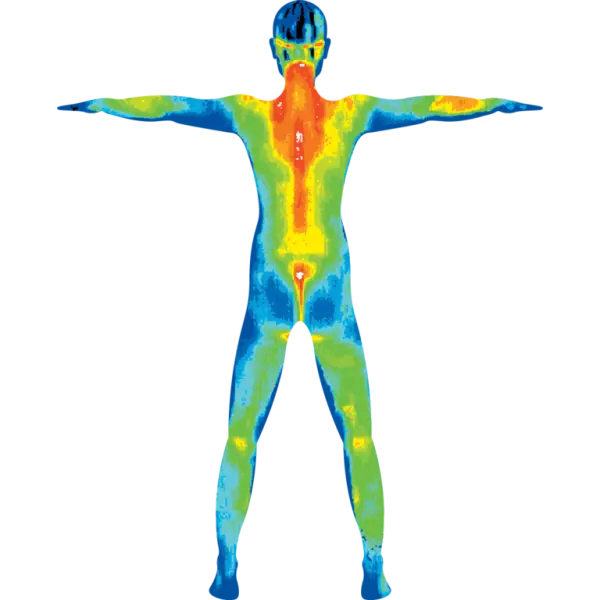 Thermographic Scan Pricing
New Breast Scan – $249 (new to the Longevity Center or new to Thermography)

Comparative or Yearly Breast Scan – $179 (existing clients only)*

Region of Interest – $249 (head, abdomen, hips, knees, feet, hands)

New Breast and Region Scan – $319

Second Year Breast and Region Scan – $249

Women's or Men's Wellness – $349 (head, chest, abdomen, back)

Comparative Rescan – $299

Half body – $379, upper or lower

Comparative Rescan – $329

Full body – $479, head to toe

Comparative Rescan – $429

Add-on Additional Region – $70
*NOTE – If it has been two years or more since your first thermography scan, the price will revert back to the new scan price.